Today, we're proud to announce that 50+ customers, partners, and DAOs have strategically invested $6M into Syndicate, bringing our total to over $28M raised from more than 300 values-aligned investors, operators, companies, partners, customers, and DAOs since our founding just a year ago. This is as 1,100+ investment clubs as DAOs have been created on Syndicate in just three months since launch.
To realize our important yet complex mission to democratize investing at scale, we'll need a lot of help. That's why Andreessen Horowitz, South Park Commons, Carta, Ledger, Circle Ventures, OpenSea, Uniswap Labs Ventures, CoinList, FalconX, Polygon, United Talent Agency, Xoogler Network, Yield Guild Games, PoolSuite, Global Coin Research, Chainforest, Sfermion, A* Capital, Outliers VC DAO, and over 30 others including the core teams and creators of FWB, Rug Radio, Loot Project, Deadfellaz, Nansen Alpha, Stonks.com, and more are investing and teaming with us. This will deepen our capabilities, partnerships, and networks in important areas as we work to revolutionize investing, together.
As part of this round, we're also proud to partner with 10+ mission-driven organizations and investors, including Flourish Ventures (financial health), Evolve (emotional well-being), Reach Capital (education), Unshackled Ventures (immigrant founders), Ulu Ventures (diverse founders), We3 (women and non-binary web3 talent network), Afropolitan (global African community), The Players Company (pro athletes community), and more.
These partners will play a critical role in bringing our revolutionary technology to important markets and communities in the months and years ahead. Syndicate's 50+ new strategic investors include:
DAOs
Customers and users
Fintechs
Web3 infrastructure and marketplaces
Foundations, nonprofits, and philanthropic organizations
Talent and alumni networks
Mission-driven investors
Institutional fund of funds
We're excited to share more details on how we'll be working together soon. Until then, we invite you to join us and our growing community:
---
Our New Strategic Partners
A* Capital
Multi-stage venture capital firm.
Afropolitan DAO
Building a digital nation to help Africans around the world live abundant lives.
Andreessen Horowitz
Lead investor of Syndicate's Series A in 2021.
BlueYard Capital
Early-stage venture capital firm based in Berlin.
Broadhaven Ventures
Fintech and crypto venture capital firm affiliated with a financial services investment bank that has completed over $90 billion in M&A and financing transactions.
Carta
Software platform with 28K+ companies and nearly 2M investors, employees, advisors, and law firms to manage cap tables, valuations, investments, funds, SPVs, and more.
Chainforest DAO
Community of founders, operators, and builders across web3.
Circle
Circle Ventures is part of Circle Internet Financial, a global fintech firm that builds payments and treasury infrastructure, and is the issuer of USD Coin (USDC).
CoinList
Platform where crypto projects build and grow their communities and early adopters trade and stake digital assets before other exchanges.
Evolve
Venture firm and foundation that backs initiatives that support the evolution of consciousness to materially impact the lives of billions of people.
FalconX
Digital assets and cryptocurrency platform for institutional investors.
Flourish Ventures
Early-stage global venture firm, funded by Pierre Omidyar, backing entrepreneurs whose innovations help people achieve financial health and prosperity.
GD1 Crypto
New Zealand based venture firm investing in early-stage crypto and web3.
Global Coin Research (GCR)
Research and investment DAO focused on web3.
Green Bay Ventures
Venture firm backed by icons in fashion, luxury, hospitality, media, food, and more investing in breakthrough technologies.
Hutt Capital
Independent blockchain venture capital fund of funds platform.
Ledger
Secure digital asset wallet, treasury management, and DeFi provider for DAOs of all sizes.
Moonbase
Investment club of Coinbase employees and alumni.
OpenSea
NFT marketplace with 80M+ NFTs, 600K+ users, and $20B+ volume.
Outliers VC DAO
Investor in web3 through scientific research and collective intelligence—started by a student group at MIT in 2016.
Polygon
Decentralized Ethereum scaling platform.
PoolSuite
Internet leisure corporation and community powered by NFTs.
Reach Capital
Venture firm investing in startups that expand the definition, reach, and impact of education.
Script Capital
Early-stage venture firm partnering with South Park Commons on its Web3 Founder Fellowship.
Sfermion
Investment firm focused on NFTs and accelerating the emergence of the metaverse.
South Park Commons
Community of founders, technologists, and builders helping each other get from -1 to 0. Partnering with Script Capital on its Web3 Founder Fellowship.
States DAO
DAO based in South Korea focused on finding talent, providing learning and work opportunities, and investing in web3.
Steel Perlot
Deep tech management company creating and investing in breakthrough technologies.
Transpose Platform
Venture firm that backs founders building companies, firms, studios, platforms, DAOs, protocols, and factories of companies.
Ulu Ventures
First Latina-led venture firm in Silicon Valley investing in diverse teams through decision analysis powered selection.
Uniswap Labs Ventures
Developer of the largest decentralized protocol for trading and automated liquidity provision.
United Talent Agency (UTA)
Global talent and entertainment company uniting ideas, opportunities, and talent based in Los Angeles.
Unshackled Ventures
Early-stage venture firm investing in U.S. immigrant founders and companies.
Xoogler Network
Global community of Google employees and alumni working with and investing in the startup ecosystem.
Yield Guild Games (YGG)
Global play-to-earn (P2E) gaming guild onboarding players to the Metaverse, allowing them to earn crypto rewards by playing NFT games.
We3
Talent network for women and non-binary professionals in web3.
6th Man Ventures
Early-stage venture firm investing in web3.
And core teams and creators:
Alberto
President of the Knight Foundation.
Alex, Mayor of Friends With Benefits (FWB)
Group of cultural creators and maintainers using web3 tools to build community and foster creative agency.
Ali, Founder & CEO of Stonks.com
Live platform for startup demo days.
Betty and Psych, Creators of Deadfellaz
Web3 brand and NFT project.
Farokh and John, core team members of Rug Radio
Decentralized web3 media ecosystem.
Friends With Benefits core team members
Group of cultural creators and maintainers using web3 tools to build community and foster creative agency.
Mel, Advisor to Rug Radio, TIMEPieces, SuperRare Labs and more
Web3 media and NFT communities.
Mike, Co-Founder of LinksDAO, 6th Man Ventures, The Block
Web3 golf enthusiast community, venture firm, information company.
Nansen Alpha team members
Global curated community of crypto mavericks, supported by its blockchain analytics platform providing real-time crypto and NFT insights.
Sheldon & Amir, Co-Founders of The Players Company and BankDAO
Pro athletes building web3 systems to enable wealth generation across its communities.
TimShel, Collaborative World-Builder and EIR at Windranger Labs
Building technology for on-chain, collaborative world-building. Bringing the Lootverse to life on the core team of Genesis Project and DivineDAO.
Note: Several organizations are not listed as their investing programs have not yet been publicly announced.
---
Join Us On Twitter Spaces
This week, we'll be hosting a series of Twitter Spaces with different partners from this strategic round to discuss just a few of the many ways Syndicate and DAOs will profoundly transform investing.
Each day, a Twitter Space link will be shared by our @SyndicateDAO account on Twitter.
Tue, May 3 @ 9am PT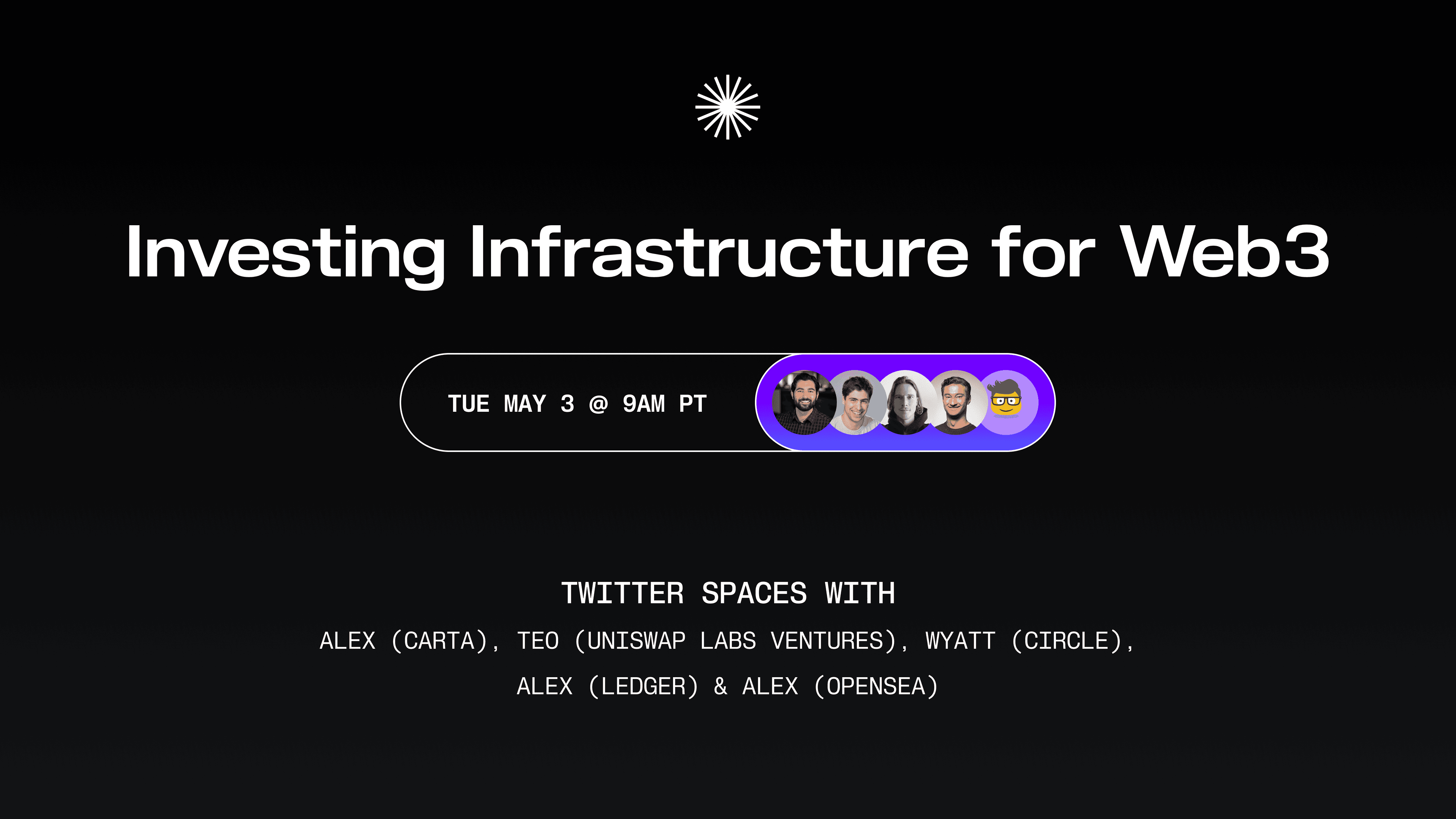 Wed, May 4 @ 3pm PT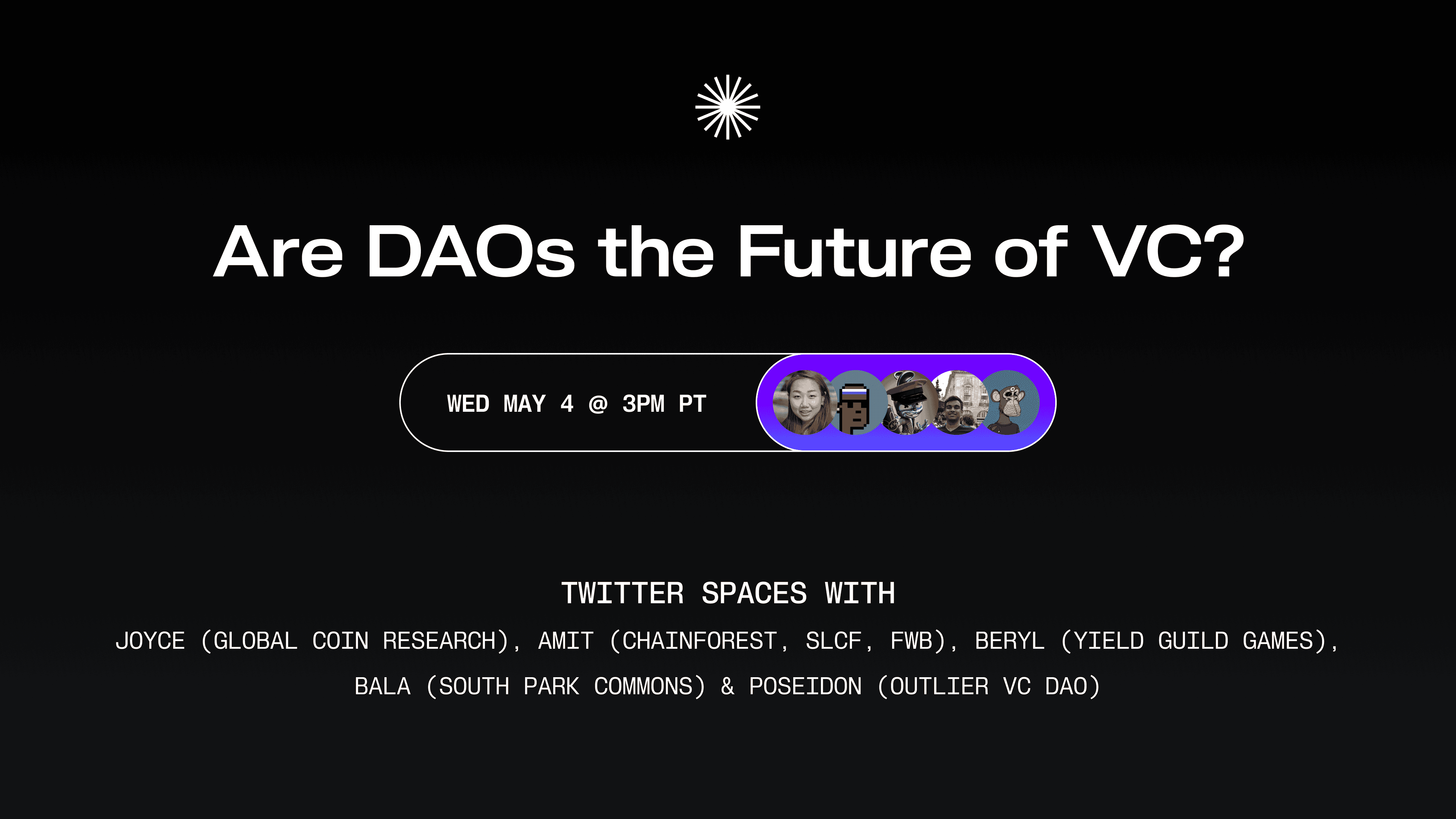 Thu, May 5 @ 11am PT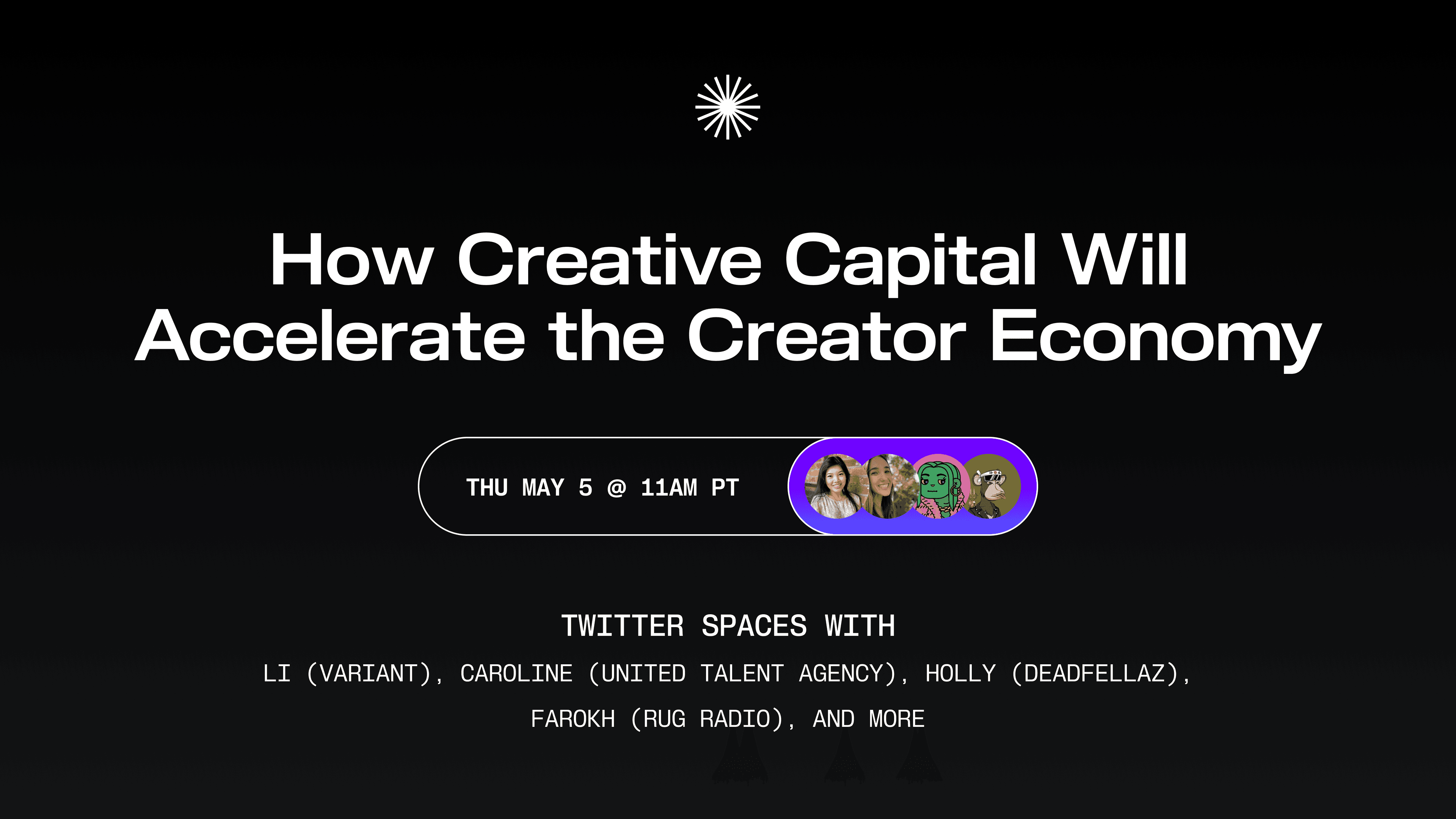 Fri, May 6 @ 9am PT